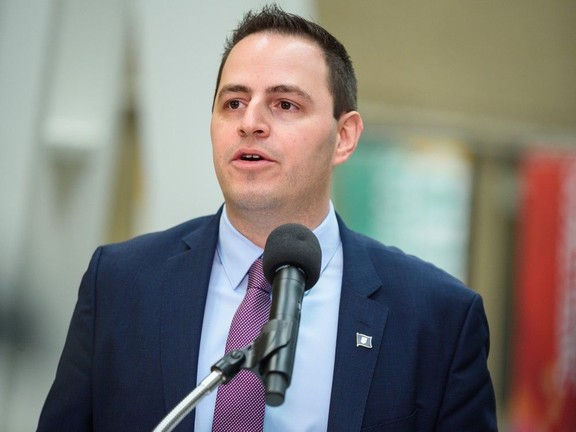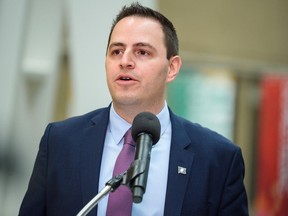 Article content
After a UCP election campaign that saw little to no talk of K-12 education, Alberta Premier Danielle Smith is directing attention back towards the province's curriculum.
The government does not, however, have a timeline on when new drafts of the most controversial elementary school subjects, including social studies, might be released.
Article content
In a mandate letter to Education Minister Demetrios Nicolaides released Tuesday, Smith calls on him to work with "parents, teachers, and stakeholders to continue to implement K to 12 curriculum, and implement additional basic life and home maintenance skills as well as financial literacy training into the high school curriculum where appropriate."
Article content
Nicolaides told Postmedia he didn't see it as Smith trying to put her stamp on the curriculum, but a continuation of work already underway.
"It's about helping make sure that we set students up for success," said Nicolaides.
After the first drafts of the K-6 curriculum were released in 2021, it was slammed for being age-inappropriate, lacking proper First Nations, Métis and Inuit perspectives and ways of knowing, and being unrealistically content-heavy and too focused on the memorization of facts. Since then, some have been revamped and subjects like social studies have gone back to the drawing board.
"There's been some significant changes to social studies over the past few years, and I'm going to continue moving forward in engaging with parents and teachers and other groups to continue to get their feedback," said Nicolaides, adding that more consultation will continue through the fall.
He also pointed to a focus in the mandate letter on investments in career training opportunities, internships and preparing high school students for in-demand sectors.
'There's a lot there that needs to be unpacked': ATA
Alberta Teachers' Association president Jason Schilling told Postmedia Tuesday that with little messaging during May's election campaign about K-12 education from the UCP, the mandate letter provides some helpful hints about what to expect from Smith's government.
Article content
Still, he said questions and concerns remain.
"There's a lot there that needs to be unpacked," he said, adding that he is encouraged by the language promising collaboration. While the province is still working through the implementation of K-6 subjects, the mention of additions to high school learning raises questions, Schilling said.
"We haven't even had any initial discussions or any kind of thoughts or ideas about where they plan to go with the curriculum for high school," he said, noting that teachers, along with LGBTQ+, francophone and Indigenous communities have previously been shut out of discussions shaping the curriculum.
Still, well before Smith was elected, the ATA was pushing to slow down the implementation of the new curriculum.
"Taking a slow approach to social studies for K-6, and fine arts, for that matter, is not necessarily a bad thing. However, the letter is absent in terms of how they actually plan on doing that," said Schilling.
The mandate letter instructs Nicolaides to review program unit funding (PUF), although when speaking to Postmedia, Nicolaides did not commit to restoring PUF to the way it was before it was changed in 2020.
The UCP cut per-child funding roughly in half for many preschoolers in language therapy and some medical therapies, and imposed stricter age limits on when help could be accessed, among other changes.
Article content
"I think the government should always be reviewing programs and initiatives to explore their effectiveness and to ensure that they're meeting their intended goals," said Nicolaides.
'Skirting the issue'
In the February budget, the UCP promised to hire 650 teachers and 1,375 educational assistants and other support workers.
Schilling said he's not confident that goalpost will fix the problems that ail classrooms, particularly in attracting professionals.
"It's skirting the issue. There's a lot of things in here about adding more individuals into the education system, but they're not addressing the reasons why teachers feel burnt out, or why educational assistants aren't staying within the classroom," he said of the letter.
Smith's marching orders don't give specifics on where more public money will go, but they do instruct Nicolaides to work to "significantly increase the number of schools in the communities of greatest need."
"We're seeing tens of thousands of people move to the province and record numbers, we have to make sure that we're keeping pace and the mandate letter reflects that in terms of significantly expanding new schools and continuing the work of hiring additional teachers and educational staff," Nicolaides said.
Article content
Alberta unveils new science and French curriculums to be rolled out this fall

Danielle Smith met with jeers from some Alberta teachers at UCP leadership forum
NDP education critic Rakhi Pancholi said in a statement the letter effectively drops that promise to hire education workers, and replaces it with vague language around "exploring incentives."
"Nothing in this mandate letter addresses this ongoing and challenging problem, which will only escalate as we continue to welcome new families to Alberta," said Pancholi, who noted there are no instructions to build schools in specific communities.
"Reviewing PUF is the very least the UCP could do. It was a callous decision in the first place to cut it and too many of our youngest learners are still paying the price for that," said Pancholi.